Gentle evening yoga for beginners
Unfortunately, we currently do not accept any new patients for any examinations in this field due to capacity being completely full.
The lesson focuses on relaxing our body, calming our mind and flowing of our breath. We start with a short relaxation and stretch and strengthen our body. Then we continue with yoga positions - asanas, which have a beneficial effect on both the physical and mental side of our body. Throughout the lesson, we work with our breath and concentration. The aim of the lesson is to harmonize our body and mind while relaxing from stress and tension. Yoga is suitable for beginners and advanced. Wear comfortable clothes which will not bother you and which will allow you to move easily. You can also take a bottle of water with you, it is good to replenish fluids after exercise.
Yoga for beginners will free us from stress and tension
We gently stretch and strengthen our body, relax our mind and break away from everyday stress.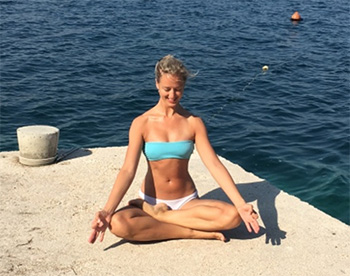 The lesson is based on classical yoga, Hatha yoga and Vinyasa yoga with elements of yoga therapy (setting healthy movement and harmonising the mind).
1. Initial relaxation and concentration training, stretching individual body parts
2. Preparatory exercises (strengthening of HSS / core, breathwork, stretching of overloaded body parts)
3. Asanas - yoga postures as well as yoga sets - eg Sun salutation, etc.
4. Breathing exercises and preparation for more complex Pranayam (work with breath and energy)
5. Final relaxation and meditation training
Come see us - Yoga Prague 7, U Průhonu 13
Every Monday from 6pm
Duration: 75 minutes
Individual lessons: CZK 900 / person
Pair lesson (two people per group): CZK 500 / person
Closed group (3 - 4 persons per group): CZK 300 / person
Alena Housková
Yoga teacher
After completing my studies at the Conservatory of Ballet, I devoted myself for several years to ballet, salsa and samba as a dancer and teacher. Then I completed my university degree.
At first I focused on Power Yoga, then I switched to Vinyas Yoga and afterwards I eventually found my yoga soul in Ashtanga Vinyas Yoga. During various courses and workshops, I also got acquainted with classical yoga which I studied in 2015 in a course for lecturers at the Czech Yoga Academy. Currently, I am proceeding with my studies in further coaching and training. Yoga has shown me the path to knowing myself and has been my kindest life guide.
Languages:


Book an appointment


+420 277 003 100

MONDAY - FRIDAY 8:00 - 19:00