Flu vaccination (shot, jabs) - influenza vaccine Vaxigrip
Influenza is a highly contagious infectious disease that affects every age group. There is nothing unusual that there will be several flu epidemics during the year. At this time, as well as any other time, flu vaccination will help. Do not underestimate it and decide to be vaccinated. Thanks to it you will ensure your body with the necessary health to combat the disease.
The vaccination is affordable alternative compared with the costs of treatment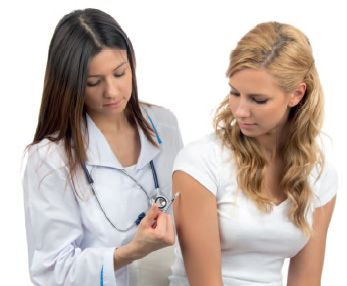 The reason to be vaccinated is also a fairly favorable price. Think of it as an investment in your health, and one vaccine can go cheaper than spending time on treatment or not working due to sickness. In addition, some insurance companies can offer interesting benefits.
The price vaccine (incl. the application) - 300 - 400,- CZK
Do not underestimate the vaccination. Flu is avoided by you and your actions
Which influenza viruses are targeted by the vaccination? Influenza in its most known form is associated with type A virus, as well as type B. Rarely there can be also type C influenza.
In addition to the possibility of getting vaccinated at our clinic, we also offer company wide vaccinations. For more people, we'll send a doctor and nurse directly to the business address where the company staff will be vaccinated. All on the basis of the order and then the payment from the employer.
Make your appointment for vaccinations without hesitation, we are looking forward to your visit.
Book an appointment


+420 277 003 100

MO 7:00 - 19:00, TU - FR 7:30 - 19:00