Do not underestimate prevention: Control of skin marks is especially important
Many sources state that more than half of new cases of cancer are related to the skin. And that is why prevention is especially important. Regular check-ups and timely intervention can, in many cases, mean a great prospect for treatment.
Any suspicious skin mark is needed to be monitored and all changes has to be documented. Let us check your skin marks using state-of-the-art technologies.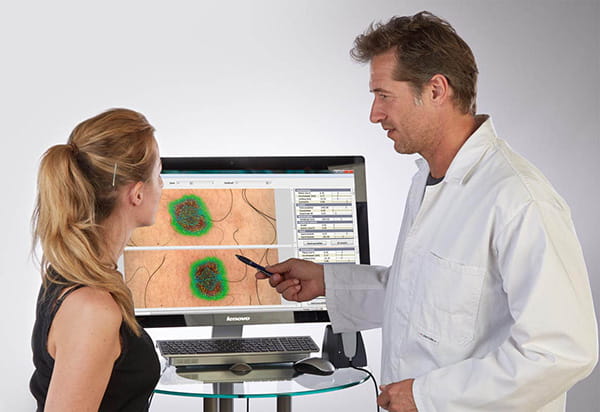 Skin marks examination (Prague) during your regular medical examination
People often visit the dermatology department at ATODA Medical only after they see that something is wrong. The most common problems visible to the naked eye include:
White spot around the skin mark,
Red marks on the skin,
Raised skin mark,
Black skin mark,
Itchy spots,
Scratched-through skin mark etc.
If anything from the above mentioned bothers you, definitely visit our dermatologist.
In reality, not only those dangerous skin marks should be monitored, but all of those we are born with or those that appear during our life aswell. That is why regular examinations should not be underestimated. At ATODA Medical we will be happy to remind you of those.
Timely examination of skin marks and birthmarks can save lives
Only an expert can recognize a malignant skin mark, respectively a malignant tumor (malignant melanoma) in time. He utilises various instruments, for example he can examine the skin mark by a dermatoscope, which focuses on microelements. The so-called dysplastic pigmented nevi, which are one of the type of skin marks, can in time manifest themselves as a malignant tumor. Our dermatologist will check each of your birthmarks that change shape or color and will recommend to have it cut out, another form of removal or he will keep monitoring the birthmarks.
Cancer can be prevented by a mere examination, which is why regular dermatoscopy should be a matter of course.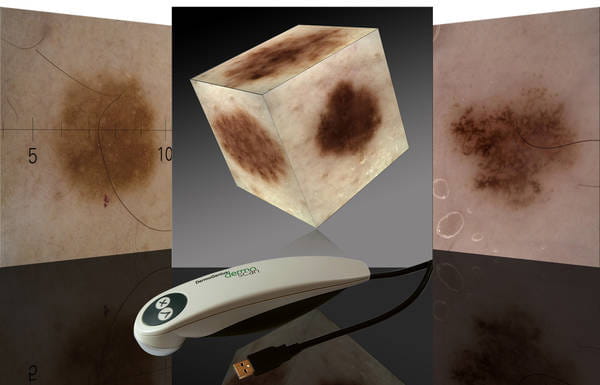 Skin marks and birthmarks check (Prague) at least once a year
At ATODA Medical, we remind our patients of prevention. We advise them not to come only when they see a red mark, have a problem with itching, enlarging or scratched-through pigment manifestation or their desire is to remove aesthetic problems with a laser.
It is proper to visit a dermatologist at least once a year. Regular yearly examination of about 30 minutes is the price everyone should be willing to "pay".
Digital dermatoscope focuses also on microelements
These days, doctors have instruments, which make their preventive, but also diagnostic work easier. Using a digital dermatoscope, it is possible to examine melanocytic and non-melanocytic skin lesions. Thanks to this instrument, it is therefore easier for doctors to notice a skin tumor in time.
Our digital dermatoscope is the most compact on the market. It has polarized light with a camera for high resolution photos. In reality, this means that the photo has a resolution of 2592x1944 pixels and can be magnified many times without loosing quality.
Not only can a digital dermatoscope make diagnosis more accurate, but it can also monitor and document the state of skin marks. Therefore doctors can monitor developments effrectively and safely.
Book an appointment


+420 277 003 100

MONDAY - FRIDAY 8:00 - 19:00