Psychosomatics
Sometimes we cannot express our inner feelings (joy or misery) with words. Instead, these emotions manifest in our bodies, often without our awareness. The aim of psychosomatic therapy is to find the source of the problems and restore balance in our body and mind. Together with our doctor, Dr. Martin Seifert, you will take a comprehensive look at your troubles while learning to activate your physical and mental resources. Based on this view, individual symptoms and illnesses can be revealed and optimal treatment suggested.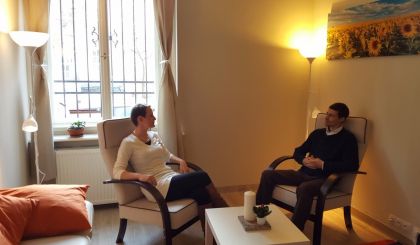 Psychosomatic consultations in ATODA Medical are offered by Dr. Martin Seifert, MD, who has long-standing experience in this field. Dr. Seifert's accomplishments in this area include collaboration on Guidelines for General Practitioners "Psychosomatic disorders and medically unexplained symptoms". He is an active member of the Society of Psychosomatic Medicine of the Czech Medical Society of Jan the Evangelist of Purkyně, which has incorporated this resurrected field into the Czech healthcare system.
Psychosomatic depression is a frequent problem for patients. We know the symptoms and the cure
Thanks to the knowledge and experience of our doctors, we can identify many health problems. An example is psychosomatic depression. Symptoms may be different and experienced physician's judgment has been able to detect the signs of the disease well, which has resulted in proper treatment. It's definitely not the only problem why patients come to us.
Psychosomatic problems can be of a different nature
Unlike classical medical practices, we can also look for psychosomatic causes of illness. That is, we are looking for connections between the states of the body and the state of the soul. All this can cause psychosomatic diseases with the additiona of environmental factors. Experienced professionals can not only detect psychosomatic problems but also treat them in the right way.
The psychosomatic clinic is open to you as well
Do you have a health problem? The ATODA Medical psychosomatic clinic is here for you too. Come or get a phone call, both for an examination or when you only need psychosomatic counseling, connected with our experts.
Our Psychosomatic Clinic Prague will reveal all your troubles
Thanks to experience and knowledge in this area, our psychosomatic clinic can also offer an alternative view of diagnostics and treatment. The aim is to reveal the difficulties and to propose such procedures in order to restore the overall equilibrium even with the use of modern psychosomes.
The top psychosomatics, in Prague, are at your service
Do you require an initial examination or a new look at the problem this medicine can bring? Do not hesitate and arrange the date of the visit. Order by email, by phone or in person.
"Complex care for our patients is our pleasure!"
MUDr. Martin Seifert
Psychosomatics
Education: General Medicine at the 2nd Faculty of Medicine in Motol in 2009,
Practise: III. internal clinic and rehabilitation clinic VFN Prague, Clinic of Neurological Rehabilitation Regensburg, General Practical Medicine attestations, postgraduate education - three-year shiatsu massage therapy school, course of myoskeletal medicine.
I have been dealing with psychosomatic issues for years, and participated, for example, to create a Recommended Practice for General practitioners: Psychosomatic disorders and medically unexplained symptoms.
Languages:


Book an appointment


+420 277 003 100

MONDAY - FRIDAY 8:00 - 19:00